Making Starters With Wholemeal & Ancient Grain Flours
---
You truly only ever need one single starter, made with any flour and you can use it in any dough, the flour in your starter does not need to match the flour in your dough. But once you've made a starter and have been using it for a little while, I highly recommend making another starter or two with other flours.
Stoneground Traditional White Regenerative Flour
---
This lovely flour behaves like a wholegrain wholewheat flour, it makes a wonderfully textured starter, it seems to collapse into a paste when you stir it but it immediately grows back up and works perfectly in dough making.
Wholemeal Spelt Flour
---
I would highly recommend using whole grain spelt flour, as opposed to white spelt flour, for making a starter. The whole grain version has more texture and strength. These starters are beautifully textured beneath a smooth surface and smell really inviting once established.
Stoneground Wholegrain Einkorn Flour
---
A whole grain einkorn starter can look like a bowl of brown slop, but within that sloppy mixture is the power to lift beautifully risen loaves. When you first mix it, it will look like a paste and it will also resist the water. Keep stirring it regularly; the water will mix in and the starter will become activated.
Stoneground Wholegrain Dark Rye Flour
---
Whole grain dark rye flour produces a thick mixture; you may find initially that you need to use 15 grams (1 tablespoon) more water than flour to begin making the starter, then revert to equal weights once it is established. A dark rye starter can add an extra depth of flavour to a loaf.
Stoneground Wholegrain Emmer Flour
---
Whole grain emmer flour has a pretty pink tint and responds wonderfully for making a starter; it is lively and very active. When first mixed, it will also resist the water, so stir it regularly. Emmer flour quickly becomes a nice bouncy mixture rather than a paste, like einkorn. Emmer produces a wonderful smelling and acting starter.
Stoneground Wholegrain Khorasan Flour
---
Whole grain Khorasan flour has a slightly yellow colour and a coarse texture and creates a thick mixture when you use it to make a starter and can look spongy rather than vivaciously bubbly. However, as you stir it, you will see texture and activity beneath a smooth surface. A Khorasan starter generates a firm dough and great flavour.
Stoneground Wholegrain Spelt & Rye Flour
---
This special mix high-fibre flour makes a great starter. I've used it a lot. it becomes textured and powerful and is a joy to use.
One Last Whole Grain Sourdough Tip
---
You don't need to keep them long term (unless you want to), but the experience of making an ancient grain sourdough starter is always great learning. If you made a white flour starter initially, try making a wholegrain one and see how it differs. Also, different starters create different flavours and textures in loaves which you may like. It's well worth experimenting widely to find new favourites!
Spelt & Rye Sourdough Starter
---
This beautiful Spelt & Rye Sourdough Starter gives you some idea of what you'll get. The grain is visible all the way through this wholegrain starter!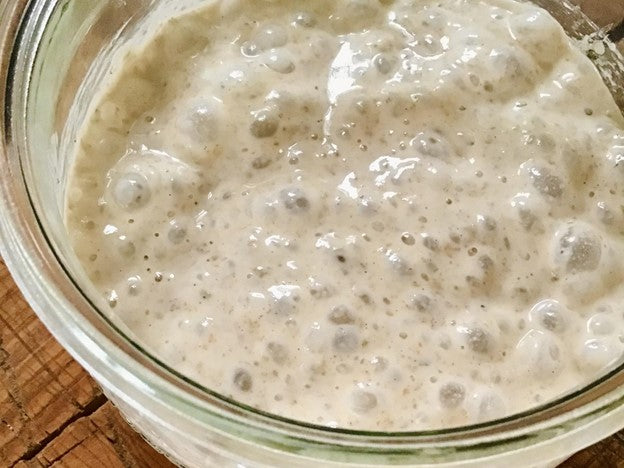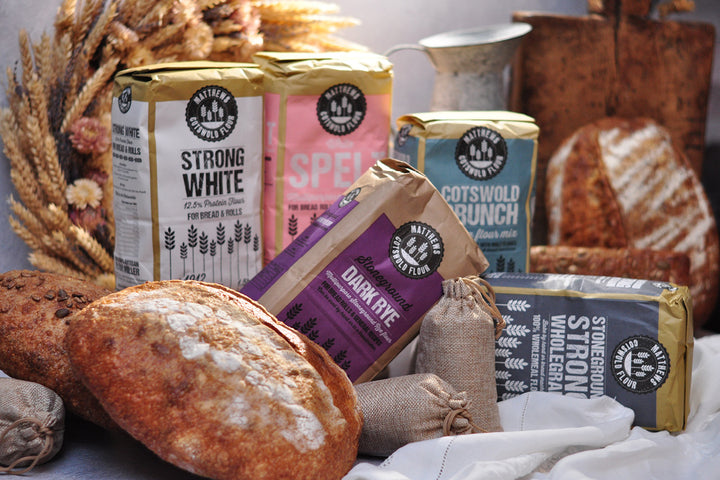 Shop Sourdough Flours
---
Matthews Cotswold Flour has the largest range of specialist flours in the UK, so you'll always be able to find what you need to make amazing sourdough every time! Checkout Elaine's recommendations for great sourdough with the link below!
Sourdough Section
---
Learn to make the perfect Sourdough Starter, download our free Sourdough Starter Journal, join our Super Sourdough Club and get going with your sourdough journey here.