Everything You Ever Wanted To Know About All Purpose Flour In The UK
---
UK All-Purpose Flour has never been easy to find - until now. Our new Regenerative All-purpose Flour is here, and your Great British baking options have never been broader as a result!
All Purpose Flour is a common ingredient in recipes originating from the USA. It is the most common type of flour in the States (no doubt the world as a result) and it's a staple of American bakes. In the UK, however, it has always been a lot more illusive...
If you've seen your favourite American baker using All Purpose, or you're used to cooking with American ingredients already, then you may have struggled to find the same exact flour this side of the pond. UK All Purpose Flour is less common, as our recipes have historically focused more on the use of Plain Flour, and typically Plain Flour has been used as a stand in.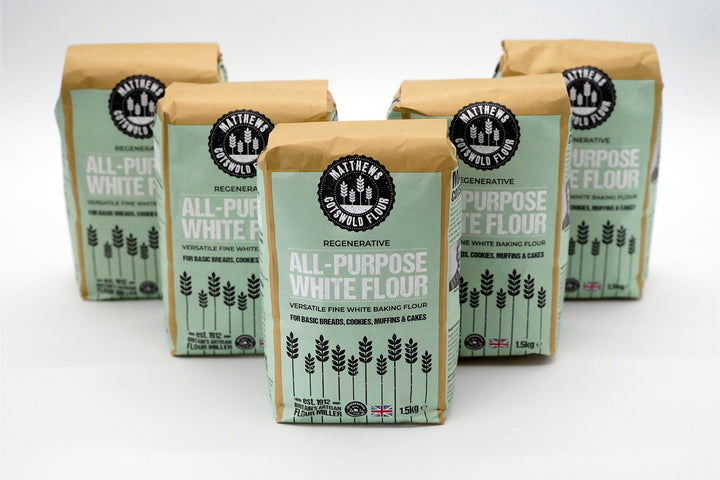 Can I Get All Purpose Flour in the UK?
---
Our newest Regenerative All Purpose White Flour is available now in the UK, in single packs and packs of five. Available to order online here (shortly) and in your nearest Tesco stores. Try this most versatile of flours for yourself now!
All-Purpose Flour Protein Content
---
Whether a Plain Flour can be considered sufficiently "all purpose" depends on their protein/gluten content, as well as on your perspective. Matthews has been producing two fantastic Plain White All Purpose Flours in the UK, both with high enough protein contents to be great AP stand-ins, as well as our new true AP Flour and existing Regenerative Strong White Bread Flour. Here's an idea of the Protein Levels you'll find in each:
Because the gluten/protein in your flour is what ultimately gives your dough it's strength, elasticity and air retention-capacity, All-purpose flour sits somewhere between Plain and Strong Bread Flour in these respects. This makes it a very versatile flour type.
Our Master Baker's Top All-Purpose Tips
---
Get exclusive insights from our in-house Professional Baker, Sophie Carey, to find out how to make the most of your AP Flour recipes now!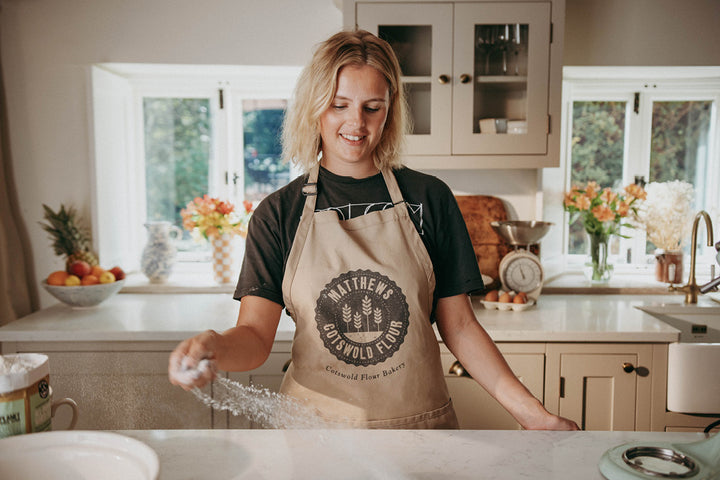 Our Latest Regenerative All Purpose Flour Recipes
Because this is the first Regenerative All Purpose Flour of its kind in the UK, our Professional Baking Experts are still experimenting with great new bakes. As we work out more dedicated recipes for the Regen AP, we'll be sure to update them in our wider Recipes section.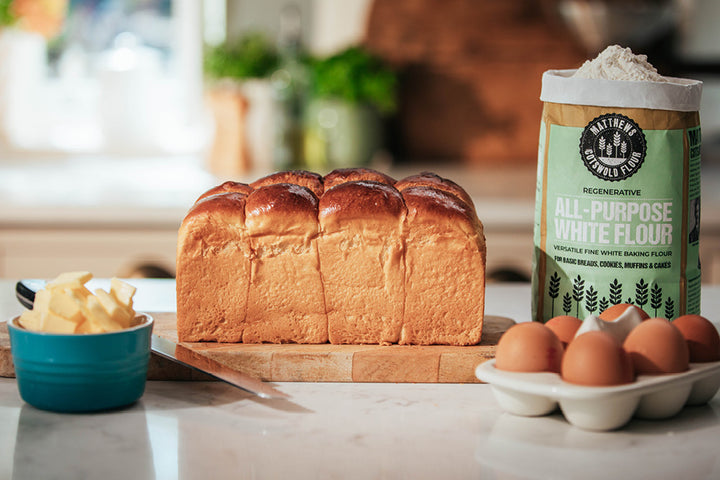 Buttery Batch Brioche Rolls
---
An extremely tasty sweet and savoury bake - the perfect tear and share table bread - find out more and get the full recipe now!

Regen AP Hummingbird Cake
---
A fantastic All Purpose Flour recipe: packed with pineapple, banana, and crunchy pecans. This 40-55 minute recipe is from our own master baker - Sophie Carey.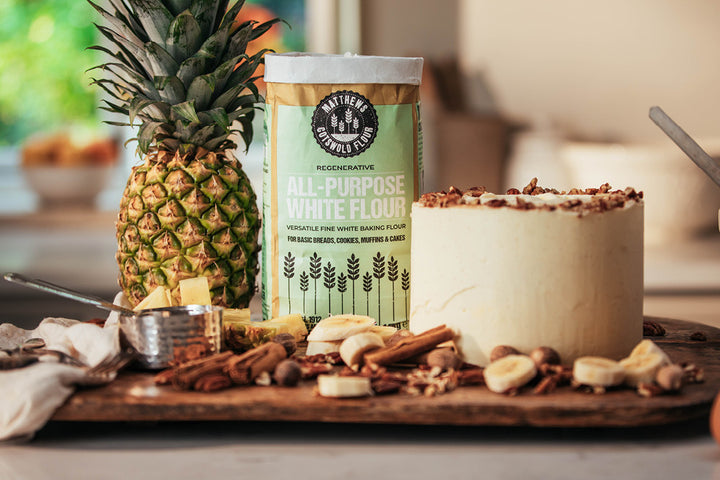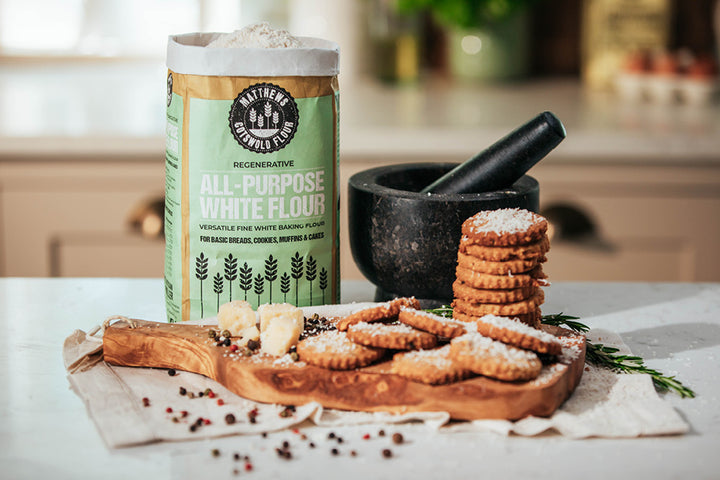 Gruyère & Black Pepper Biscuits
---
This savoury recipe is a perfect quick and simple bake, ideal for after-dinner or snacking throughout the day. Also from our Professional In-house Baker, Sophie Carey.
Is All Purpose Flour American?
---
Though All Purpose Flour may have originated in the US, UK millers are now starting to make true AP Flour here too. As mass communications lead to an ever rising popularity of American recipes here in the UK, more and more bakers are searching for more authentic ingredients to use in their international bakes, Cotswold Flour has recognised the need for a dedicated All Purpose line.
Though there is no official industry-wide definition of what makes a flour "All Purpose" in the UK, at least not yet, the following protein ranges tend to be what most millers agree sets AP apart from other flours.
Plain Flour is between 8.5% to 10% protein on average
All Purpose Flour is between 10.5% and 11% protein on average
Strong Bread Flour is between 11% and 12.5% protein on average
Very Strong Bread Flour is between 12.5% and 15% protein on average.
This different proportion of gluten/protein is what sets true UK All Purpose Flour aside from Plain and Strong Bread Flours. Our new Regenerative All Purpose Flour has 10.7% Protein Content.
What Is Regen Ag?
---
Regenerative Agriculture is the practice of farming in accordance with certain principles designed to produce better outcomes for our environment and our ingredients.
What's The Purpose Of All Purpose Flour?
---
A flour that is strong enough to make basic breads - especially breads that prove in a tin - but also soft enough to make cakes, pastries and biscuits, etc. All-purpose flour is a one stop shop between plain and bread flour, sitting directly between the two in terms of protein content. A good way to see where All-purpose flour fits is by the type of baking you do:
Cake - 5% to 10.7% Protein Flours
Bread - 10.5% to 13% Protein Flours
Speciality Bread - 10.7% to 15% Protein Flours
Pastry - 8% to 10.8% Protein Flours
This versatility makes All Purpose Flour a fantastic option to keep in your pantry. Because AP Flour can be used in a broader range of recipes, it is a great choice for making your baking budget go further than ever before. Suitable for use in recipes that call for plain, strong bread or even self-raising flour (when used with a raising agent), as well as with recipes specifically designed for All Purpose.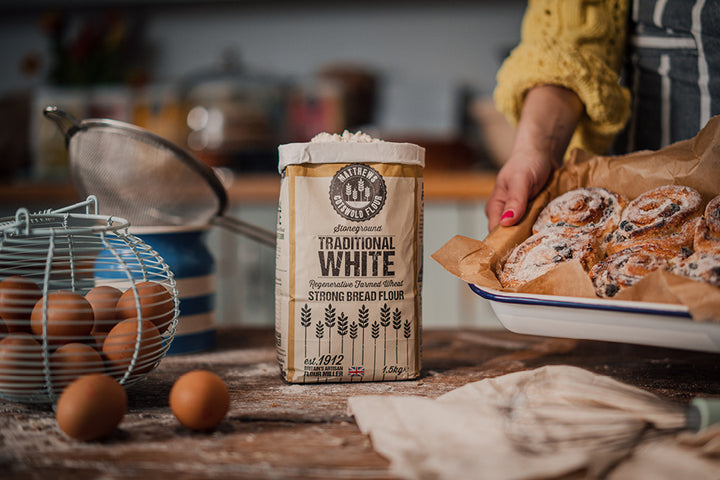 Other Types Of Regenerative Flour
---
Our Traditional White Regenerative Strong Bread Flour is also available. With a higher protein content than All Purpose, this flour is great for more dedicated bread and sourdough baking, also made with regeneratively farmed grain.
All Purpose Flour FAQ
Q. What is the UK equivalent of All Purpose Flour?
A: Our Regenerative All Purpose Flour is the closest possible equivalent to American All-Purpose Flour - the difference being that it is made in the UK from British Regeneratively Farmed grain.
Q. Is Plain and All-Purpose Flour the same thing?
A: Typically, it has always been fair to say that Plain Flour is the UK equivalent to All-Purpose Flour in North America, until now... Our UK Regenerative All-Purpose Flour has the same protein content as US All-Purpose Flours, making it strong enough for bread baking, yet still soft enough to be used in biscuits, pastries and cakes (with a raising agent).
Q. Is All-Purpose Plain or Self-Raising?
A: Neither - US All-Purpose Flour is technically closer to Plain, in that it has no raising agent mixed in, but actually has a slightly higher protein content than most typical Plain Flours in the UK. Our new Regenerative UK All Purpose Flour has slightly more protein than Plain Flour and slightly less than Strong Bread Flour, putting it right in that best-of-both-worlds sweet spot.
Q. Which All-Purpose Flour is best?
A: At the time of writing this, Matthews Cotswold White All-Purpose Flour is the only UK domestic AP Flour available (as far as we can find). We are looking forward to putting our flour to the test against other providers as soon as we are able to find some.
Q. What is the English alternative to All Purpose Flour?
A: An English alternative to All Purpose Flour has historically been Plain Flour, particularly Plain Flour with a higher Protein/Gluten content. Now there's no need to search for an alternative - just use Matthews newest option: Regenerative All-Purpose White Flour.
Q. What can I use instead of all-purpose flour UK?
A: For the first time, possibly ever, you can now find All-purpose flour in the UK without having to special order from abroad. Matthews Cotswold Flour has launched this All-purpose White Flour, with the added benefit of making it entirely from regeneratively farmed grain.
Q. Didn't you say that Plain is the same thing as All-purpose before?
A. In fairness, yes we have said this - or at least words to this effect. It's through constant conversations with our baking community - from home and pro-bakers through to some of the biggest retailers and bakeries in the UK - that we have come to our slightly revised position on this. We stand by the fact that Plain Flour with a higher protein content has always been the best available alternative in the UK until this point. It is also through the growing demand from our partners and customers that we have invested huge time and resource to develop the UK's first true All Purpose Regenerative White Flour available for all now.
Regenerative UK All Purpose Flour Recipes
---
Make the perfect All-Purpose Bakes in the UK with these top picks from our in-house Professional Baking Expert. Get started now with the link below!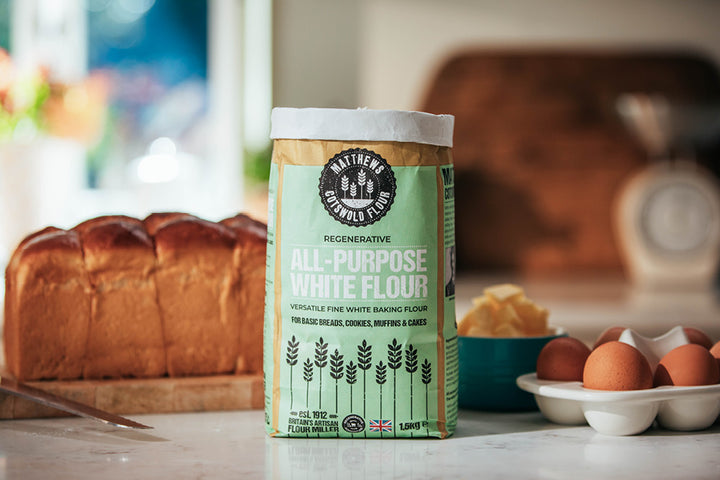 Join Our Baking Club Now
---
Want the latest offers, news, events opportunities delivered directly to your inbox? Fill in the form below!