Top 6 Hints & Tips To Improve Your All-Purpose Baking
---
Mathews Cotswold Flour's in-house professional baker, and resident recipe master, Sophie Carey gives you her top tricks for using All-Purpose White Flour in your bakes.
1. Keep It Light
When using all purpose flour to make cakes, try to stick to oil based cakes as they don't need as much mixing – you don't want to develop the gluten too much as this will make the cake tough!
2. Make It Milky
When making cakes using all purpose flour, you may need to add a splash of milk to loosen the mixture - as all purpose absorbs more liquid than standard plain or self-raising flour.
3. Keep It Chill
If you are making pastry or biscuits with all purpose flour, try to refrigerate the dough after mixing and again after rolling to keep a short texture.
4. Make It Saucy
Use all purpose flour to thicken sauces by adding it to melted fat before streaming in milk to make a roux!
5. Use Your Loaf Tin
All purpose flour can be used to make bread, just make sure to use a tin to give the loaf structure and to prevent it from spreading too much during baking.
6. Give It A Rest
When baking bread with all purpose flour, try to give the dough time to rest after each stage of the recipe – this will help it to strengthen enough.
Our In-House Pro Baker
---
Find out more about our Master Baker and Recipe Creator, Sophie Carey, here.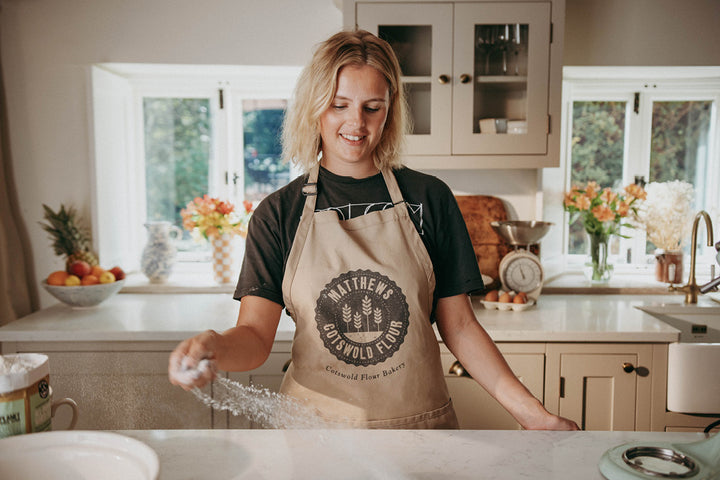 Sophie Carey's All Purpose Flour FAQ
Q. Can I use an all purpose flour to make cakes?
A: Yes – all purpose flour is soft enough for cake baking, however the aim is to prevent the gluten from strengthening too much. Try to stick to cake recipes that use oil instead of butter and don't be tempted to mix the batter for any longer than necessary.
Q. Can I use all purpose flour instead of self-raising?
A: All purpose flour can be used instead of self-raising, however you will need to add raising agent! A good rule of thumb is to add 1 teaspoon of baking powder for every 100g of all purpose flour used.
Q. Can I use all purpose flour to make sourdough?
A: Although you may be able to get good results using all purpose flour for some breads, I don't personally recommend that you use all purpose for a sourdough recipe. Sourdough needs high strength flour to hold it's shape, so something like our Churchill or Organic Premium White would probably be better suited. If you do try though, we'd love to see what you make!
Q. Can I blend the all purpose flour with other flours?
A: Yes! All purpose flour blends very well with other flours, especially heritage types like Einkorn or Emmer – just remember to consider the protein content that you need for the recipe you are attempting.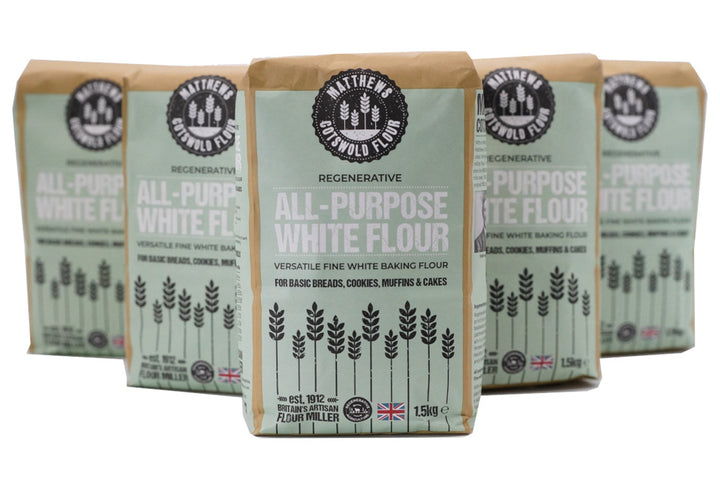 Our New All Purpose Regenerative Flour
---
Our newest All Purpose White Flour is available now in the UK, in both single packs and packs of five. Order online here (soon) and in your nearest Tesco stores. Try this versatile flour now!
Sophie's Latest Regenerative All Purpose Flour Recipes
Sophie has been experimenting with great new bakes and below you can find her first three with this great new flour. As we work out more dedicated recipes for the Regen AP, we'll be sure to update them in our full Recipes section.
Regen AP Hummingbird Cake
---
A fantastic All Purpose Flour recipe: packed with pineapple, banana, and crunchy pecans. This 40-55 minute recipe is from our own master baker - Sophie Carey.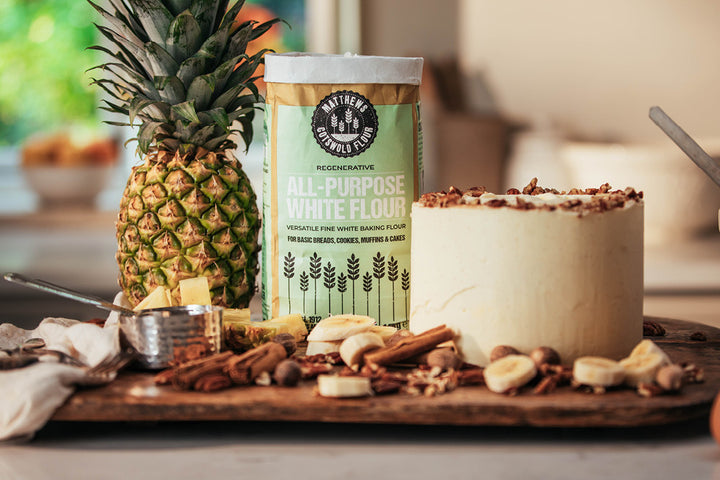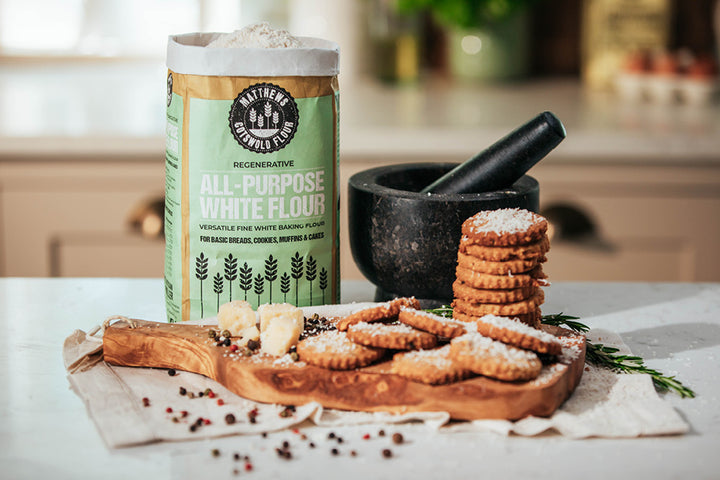 Gruyère & Black Pepper Biscuits
---
This savoury recipe is a perfect quick and simple bake, ideal for after-dinner or snacking throughout the day. Also from our Professional In-house Baker, Sophie Carey.
Buttery Batch Brioche Rolls
---
An extremely tasty sweet and savoury bake - the perfect tear and share table bread - find out more and get the full recipe now!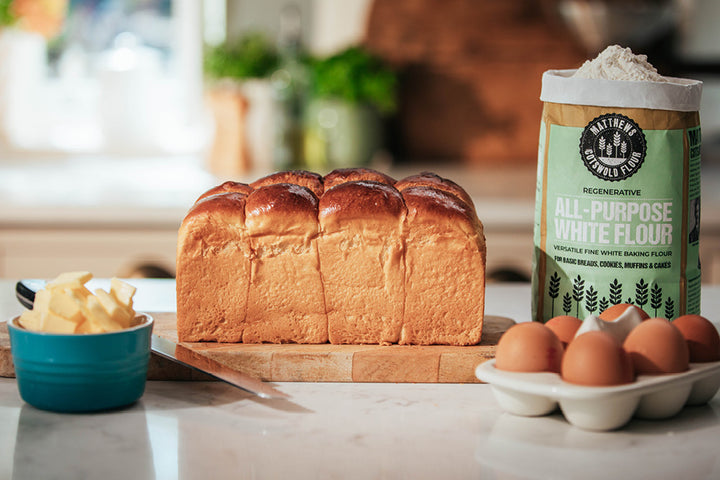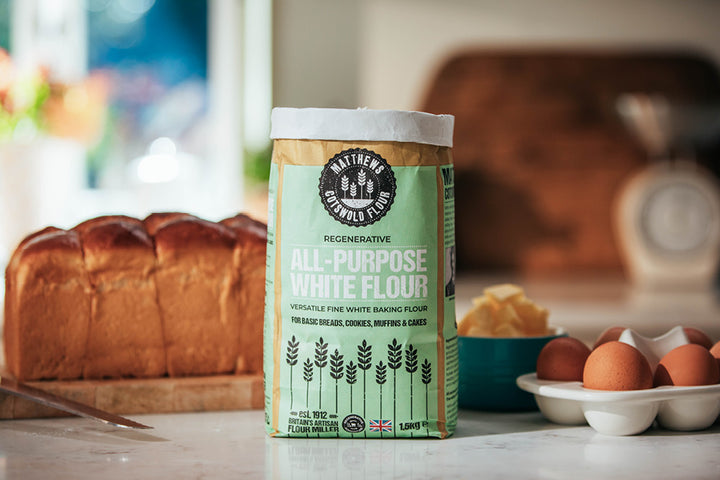 Regenerative UK All Purpose Flour Recipes
---
Make the perfect All-Purpose Bakes in the UK with these top picks from our in-house Professional Baking Expert. Get started now with the link below!
Join Our Baking Club Now
---
Be the first to get the latest news on all things Cotswold Flour, regular exclusive offers, events and more!