Baker of the week – Susie from the Cotswolds Baking Workshop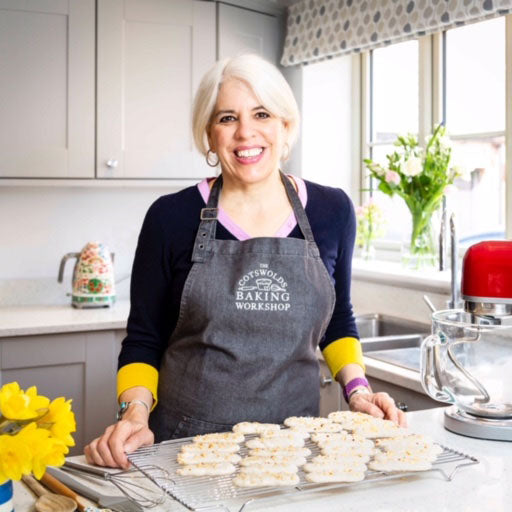 Congratulations Susie from The Cotswolds Baking Workshop, you are our Baker of the Week!
Thank you for answering our questions for the Cotswold Flour Baking Club!
Have you always had a love for baking and how did you first get into it?
Yes, I have enjoyed baking for as long as I can remember.  My first baking memory is making Russian Teacakes at Christmas time with my mum – I still make them every Christmas.  
What's been the highlight of your baking career so far? 
Setting up my own business!  I taught baking on a freelance basis for a few years, so it is exciting to set up The Cotswolds Baking Workshop.  
Where did the idea of The Cotswold Baking Workshop come from?
It was always a dream to have my own business teaching baking.  We were living in Berkshire and I was teaching freelance, the pandemic hit and all of my freelance was gone overnight.  We had the opportunity to move to the North Cotswolds, which provided a blank canvas for me to explore my own creativity for the first time.  
Have you had to adapt and make any changes to your business during Covid times? 
Yes, all teaching has had to move to online classes on Zoom which has worked really well, but I am definitely looking forward to teaching face-to-face again.  
This might be a hard one, but do you prefer sweet or savory baked goods?
Definitely sweet!  
Do you have a favourite type of flour to work with or is it dependent on what you're baking? 
It depends on what I am baking, but I mostly use Matthews Cotswold Plain Flour, Matthews Cotswold Strong White Bread Flour, and Matthews Cotswold Self-Raising Flour. 
Where is The Cotswold Baking Workshop based? 
We are in Shipston on Stour in the North Cotswolds. 
What classes have you got coming up? 
I have Jam & Custard Filled Doughnuts, Parisian-style Macarons, and Afternoon Tea Treats on the schedule.  New classes are being added such as American Baking, Easy Breads, and Seasonal Bakes.  
How can our Cotswold Flour Baking Club find out more about your classes and experience days?   
Visit www.cotswoldsbaking.com for classes and recipes and  follow me on Instagram @cotswoldsbaking for baking inspiration.  
And finally, what advice would you give to someone who is just getting started with baking?  
Start off by using reliable recipes to build your confidence. Always read the recipe thoroughly, get all of your baking ingredients ready, weigh and measure accurately, and prepare your baking tin before you start baking.  And enjoy!  
Thank you Susie, we love your baking! Here is a delicious Strawberry Streusel Cake recipe supplied by Susie for you to try. 
---
← Older Post Newer Post →