Baker of the week - Nourishing Amy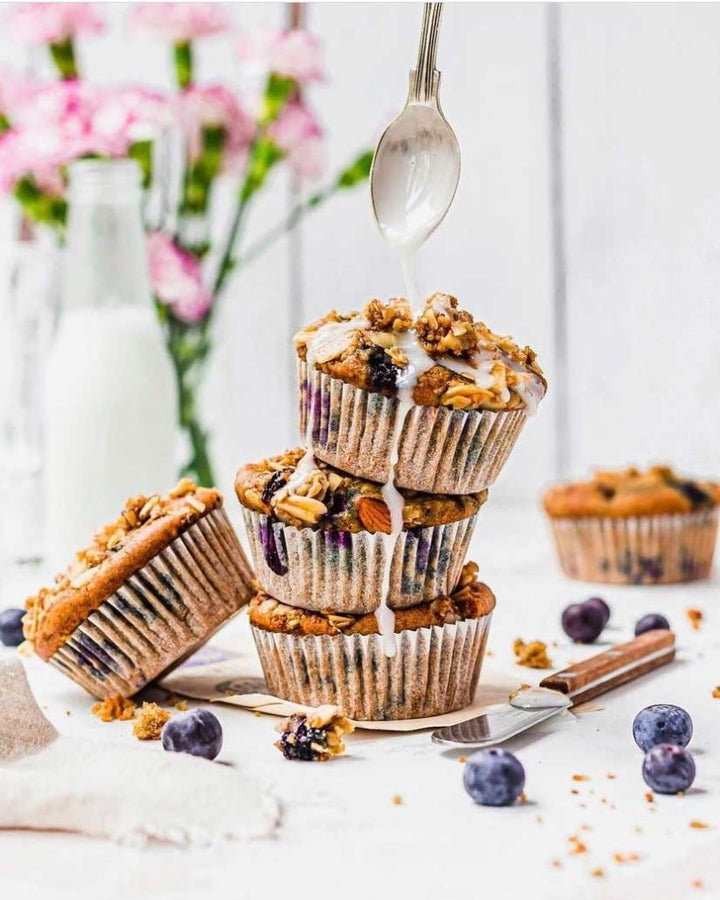 Tell us a bit about yourself and your journey to becoming a vegan baker?
My name is Amy, but I'm better known as the food photographer and recipe developer behind Nourishing Amy. I'm half Italian and have a passion for food and leading a balanced lifestyle. I have always loved baking and spending time in the kitchen and naturally, I turned to social media to share my cakes and bakes. I quickly found there was a supportive and encouraging community online of fellow foodies and it's around the same time that I began following a more plant-based lifestyle before gradually becoming vegan around 2017. From then, I have never looked back and love experimenting in the kitchen, veganising traditional recipes and creating showstopper cakes.

What's your favourite vegan bake?

There are so many cakes and bakes to choose from! Every month I create a brand new banana bread and I'm in my third year of the challenge so I'd have to choose one of those. I love the Strawberry Shortbread Banana Bread for something fruity and fun and we also devoured my Snickers Banana Bread. For something really chocolatey, my Black Forest Gateau Cake is one that I am really proud of.

Strawberry Shortbread Banana Bread

Snickers Banana Bread

Black Forest Gateau

What inspires you as a baker?

I find inspiration everywhere. I love to turn to social media to find new and exciting recipes to try and often love looking at non-vegan recipes to think how I can add my own nourishing vegan spin on them. I also love eating out and find a lot of inspiration from bakes that I try. Plus, I try to work as seasonally as possible, so nature is a big source of inspiration to me: lots of warming cosy apple and cinnamon creations in the autumn and lots of fresh fruity and berry recipes in the summer.

What advice would you give to a baker who is thinking about becoming a vegan baker?

Just go for it! The joy of baking, whether that is vegan or non-vegan, is about trial and error and the amazing feeling when you perfect your own recipe. There are so may easy vegan substitutes now that it's not even that hard to make the switch. Dairy is the easiest to swap: change dairy milk, cream and butter to plant-based milk like oat or almond milk, cream to plant-based cream and there are lots of vegan butter blocks to choose from. As far as eggs go, these are easy to swap as well; use aquafaba, mased banana, applesauce or chia/flax seed.

Do you have any must-have vegan ingredients?

Chia seeds are one that I love to use in baking recipes as when combined with water they form a gel which acts like an egg. I also love chickpea or gram flour for savoury recipes as it also can have a lovely egg-like quality for frittatas and quiches. Apart from that, plant-based milks, creams and butters are essentials (as well as chickpeas for their aquafaba).


You make a lot of beautiful cakes and deserts, what inspires your aesthetic?

Thank you! I find inspiration in iso many places, a lot of it online on social media and Pinterest. I love talking to friends and family about how they envisage certain recipes. I also try to be inspired by the recipe itself and the mood I would like to create: for example a really cosy scene with gooey melting chocolate brownies that makes you feel nostalgic, or a light and bright scene with lots of flowers and delicate elements to inspire a sense of vivacity and vibrancy. I also took a food photography course online (The Foodtography School) which really helped me to understand my style and to hone my photography skills.
Foodtography School Link

What have you got coming up in the pipeline?

There will be lots of cake, bakes and other nourishing recipes to come, fear not! Watch out for the banana bread of the month every month and also, I am hoping to be at a few food festivals this year hosting live cooking demos as well as a few secret projects to reveal soon!

Where can our readers find out more about you and some of your gorgeous recipes?

You can find all my recipes on my website and social media channels as well as exclusive recipes in my 2 eBooks and through my bi-weekly newsletter:

Website

Instagram

Twitter

Facebook

Pinterest

eBooks

Newsletter
---