First British Regenerative Farming Documentary Feature Film Six Inches of Soil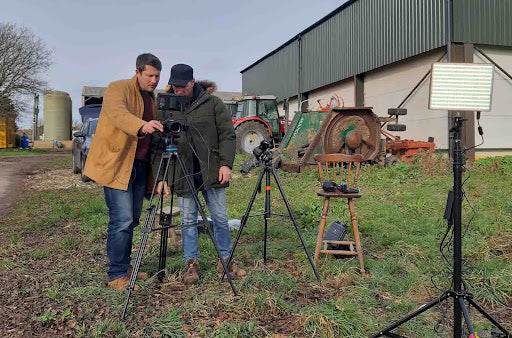 A message from Bertie Matthews, Managing Director of Matthews Cotswold Flour:
"Soil fertility is at the centre of everything we do here at Matthews. Our vision over the next few years is to source 100% of our grain for our Artisan Flours from sustainable, regenerative farming systems.
Last year, we hosted a Soil, Stone and Sourdough event for Bakers, Farmers and the press to highlight the importance of soil up at FarmEd – 500 metres away from the mill. 
The year before we launched the Cotswold Grain Partnership to promote a diverse agricultural system in our area and regenerative agriculture.
This year we are proud to support an exciting new film "Six Inches of Soil" celebrating the inspiring stories from experts making a real positive change to our food system. The film will include a number of pioneers in regenerative agriculture including our neighbour Ian Wilkinson from FarmEd.
It's our duty as food producers to support activities like this. Matthews has made a start and donated on their JustGiving page. We hope that our farming, baking and milling community can do the same.
Below we have a summary of their activities, take a read it's a fantastic project. And if you want to support, please follow this link."
—-
Food production in Britain is controlled by a handful of supermarket retailers and food processing companies. As a society we've become totally disconnected from the way in which our food is produced, packaged and transported and many of us seem happy with the 'choice', 'convenience' and 'good value' that supermarkets seem to offer. Yet we're addicted to junk food, which is contributing to an unfolding public health crisis and our food bank queues grow ever longer. 
But change is in the soil, pioneered by a quiet but rapidly growing food and farming movement in the UK that seeks to completely overturn the way we have farmed and eaten over the last 70 years. This movement is the inspiration behind a new campaigning documentary feature film, Six Inches of Soil, which tells the story of remarkable farmers, communities, small businesses, chefs and entrepreneurs who are leading the way to transform how our food is produced and consumed. The film, which is currently Crowdfunding, centres on new entrant farmers Anna Jackson and Adrienne Gordon, as well as established farming pioneers who are leaving behind conventional agriculture to build a future that focuses on the health of the soil and increases biodiversity. The film will follow their often challenging journeys and will examine the whole ecosystem of food and farming including how they access land and create robust business models.
With a compelling narrative, engaging animations and interviews with leading figures, Six Inches of Soil will offer a provocative 'focusing moment' for wider public debate giving farmers confidence to adopt nature-friendly practices, consumers the impetus to rethink food choices, and aims to create a groundswell of opinion resulting in policy change and funding for a British agroecological transition. 
Anna and Adrienne will meet with both conventional and regenerative farmers across the country, including Craig Livingstone, Lockerley Estate and Stephen Briggs, agroforestry expert and first-generation farmer who's been farming organically for 18 years at his 576-acre farm in Cambridgeshire. They'll also have discussions with experts in the food and farming sector including Vicki Hird, Sustainable Farming Campaign Coordinator and author of Rebugging the Planet and Ian Wilkinson FarmED Founder.
The Six Inches of Soil team has formed partnerships with the major UK charitable organisations and interest groups working on agroecology who plan to use the film as a campaigning tool, with screenings up and down the country and accompanying campaigning materials. Partners include: The Soil Association, Farm-Ed, Sustain, Groundswell, Sustainable Soils Alliance, Nature Friendly Farming Network, Organic Farmers and Growers Association and the Pasture for Life Association. The team also recently announced a Corporate Partnership with David Gordon, Founder of sustainable clothing brand, BAM Clothing.
Six Inches of Soil will launch at Groundswell 2022. Please click the link to donate to the Crowdfunder.
---
← Older Post Newer Post →