Baker of the week - Baked by Alice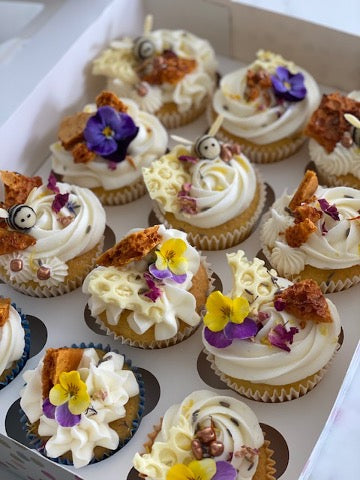 Congratulations @Baked.by.Alice you are our star baker of the week!
  
Here are some questions for our Matthews Cotswold Flour Baking Club:
1. Have you always had a love for baking and how did you first get into it?
Yes! I have baked for as long as I can remember. I learnt from my mum when I was a child, making all sorts of sweet treats like fairy cakes and flapjacks.
2. What's your favourite recipe to bake?
My favourite thing to bake at the moment is definitely sourdough – focaccia in particular. I love how versatile it is to add any flavourings in or on top, and I find the 'dimpling' so therapeutic! I am relatively new to sourdough though – I only started my starter 6 months ago. Before that I mainly stuck to cakes, and love making and decorating cupcakes in particular.
3. Where do you get your inspiration from for your creative pieces?
I am part of an amazing baking community on Instagram and am constantly inspired by my fellow bakers. I also love being inspired by a single ingredient or idea that I can design a whole bake around.
4. Do you prefer sweet or savory baked goods?
I couldn't choose! 6 months ago I would have said sweet, but now I have a huge love for all things savoury too, especially bread!
5. Do you have a preferred type of flour to work with or is it dependent on what you're baking?
It depends on what I'm baking. I use standard plain / self raising flour in general for sweet bakes and cakes and strong white bread flour and wholemeal in most of my bread. I love mixing things up with different flours such as spelt or rye in various bakes too, including bread, pastry, cookies and cakes.
6. Do you sell your baked creations?
I registered as a home baker about a month ago and set up a business making celebration cakes, as well as supplying a couple of local cafes with sweet treats and bread. I'm loving it so far!
7. Is there anything you haven't tried baking yet that you want to try?
I have never tried to make croissants from scratch as I am very intimidated by the complexity of making them! I would say pastry in general is something I would love to learn more about and improve on.
8. And finally, what advice would you give to someone who is just getting started with baking?
Don't be scared of failure! Even if something doesn't turn out exactly as you expect, most of the time it is at least edible and you will always learn something from it. I have made lots of baking mistakes over the years, and some of my favourite bakes I've made might have had an issue at some point in the process, I usually just have to think outside of the box and fix any problems. I would also say that practice is the best way to improve.


  


   
---
← Older Post Newer Post →