Q&A with Nicola Cooper from Blake's Kitchen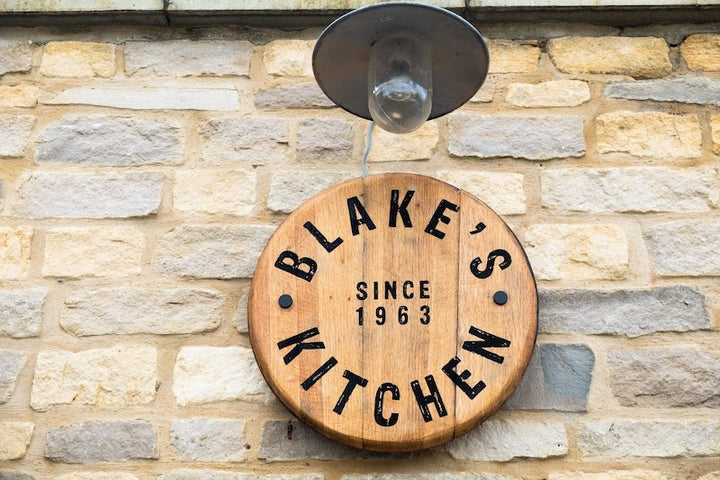 What is your earliest memory of pizza?
Pizza has always been a huge part of my life. My grandparents were the most incredible pizza-making double act - my grandad had been a baker in his younger years and my Nan, Martina was originally from Naples, pizza capital of the world. He would make the dough, she would fry them and feed us till we popped!
What is the best pizza you've ever had – except your own?
I can still taste it. From a wood-fired pizzeria in the most run-down neighbourhood of Naples.  Just the most amazing tomato sauce and fresh buffalo mozzarella, accompanied by a massive vat of red wine that cost barely more than €1 and came out of a petrol-pump sized machine, complete with nozzle.
What are your 3 top tips for home bakers looking to make a perfect pizza?
Leave yourself plenty of time - pizza is not a good weeknight dinner!  Firstly, for the dough to prove properly, to prepare the toppings, and to cook them if making individual pizza. Most importantly, not rushing means you can take your time and have some fun.
Less is more. Don't overcomplicate pizza. Sometimes a really great cheese is as good as any topping. Pizza is about letting the beautiful dough sing, and a great tomato sauce. And there's no shame in a bit of fast acting yeast! 
Invite your favourite people. For me, pizza is about friends and family. This particular recipe below is a labour of love, and you want your nearest and dearest around you helping – make sure you put them to work. Making these is one of my daughter's favourite activities.
Pizza Fritta by Martina Blake
Makes 10 small individual pizza
For the dough:
600g strong white flour

5g dried yeast / 10g fresh yeast

12g sea salt

385g tepid water
For the sauce:
2 tins of whole plum tomatoes

Extra virgin olive oil

2 cloves of garlic, thinly sliced

Handful of basil leaves

Salt to taste
To finish:
A block of semi-dry mozzarella, cut into small cm cubes

A ball of buffalo mozzarella, roughly torn

Other toppings of your choice
Method:
Weigh the dry ingredients into a large bowl. Into the same bowl, weigh in the water. Mix by hand until the mixture comes together, then tip onto the worktop.  Do not add any more flour at this point. The mixture will be quite wet; use a dough scraper to help lift it off the worktop if stuck.
Knead the dough for 10 minutes by stretching it away from you as you pin it to the work top with the other.  When the dough is smooth and silky it is ready to prove.  Roll it into a tight ball and place into your bowl, having lightly oiled it.
Cover with a tea towel and leave in a warm place for 1-2 hours until doubled in size, light and airy.  
Whilst the dough is proving, gently fry the garlic in olive oil on a low heat, ensuring it does not colour.  The quantity of olive oil will depend on your liking of it.  I use liberal amounts in all my Italian cooking, but you can use as little as you like.  When the garlic has gently fried for about a minute, add the tomatoes, mash with a potato masher to break them down and bring up the boil.  Simmer until your dough is proved.  Just before taking off the heat, add salt to taste.  Again, another very personal taste.  I prefer to season very well as I am lover of a simple topping, thus not adding lots of salty ingredients, but if you are using more toppings, do not season as heavily. 
Gently tip onto a lightly floured work surface and cut into 10 equal pieces.  Roll each one into a small ball and rest on the work top for 10 minutes.  Preheat your grill to high.
Add approximately an inch of vegetable oil to a large frying pan and heat.  The oil is the correct temperature when a tiny piece of dough will sizzle when put in the pan.
While the oil is heating, roll out the pizza.  Dust each ball liberally with flour and roll as thin as you can without creating holes.  Shake off any excess flour and fry on each side, using tongs to turn once the first side is golden.  Each side should take no longer than 30-60 seconds.  Lift out of the pan and drain excess oil off.  Place on a chopping board and top lightly with tomato sauce, mozzarella and your chosen toppings.  
Melt toppings under a hot grill and serve.
You can pre-fry all of your pizza before topping, stacking them up under a tea towel.  Or better still, get someone to fry them whilst you grill, allowing 'the eaters' to come and top their own pizzas so you don't have to.
Calzone work really well with this method too – this was my Nan's favourite reward at the end of all the cooking.  Roll out in the same way, ensuring there is no excess flour on the dough.  Add tomato, cheese and any other fillings (my Nan's go-to was tomato, mozzarella and ricotta).  Work your way around the edges, crimping it to resemble a Cornish pasty. 
Gently fry on both sides until golden brown (this will take longer than the regular pizza to ensure the middle is melted).  Arrive at the table with your own calzone and watch everyone's jealous faces.
Thank you so much to Nicola from Blake's Kitchen for submitting these tips and recipes.. If you want to see more please visit their Instagram or website. Blake's Kitchen can be found in Clanfield or at Soho Farmhouse. 
---
← Older Post Newer Post →