Pizza week - Q&A with Cameron Kelly from Zonda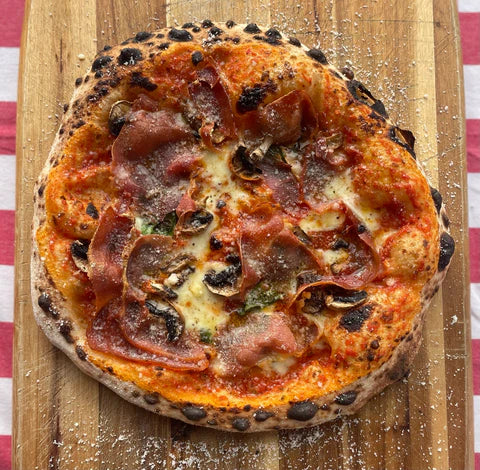 My first memory of pizza is being on holiday in Portugal when I was about 7 or 8. The restaurant we were at had a load of bizarre pizza toppings, one of which was prawn and chips. Thinking back it sounds completely vile, but the thought of having chips on a pizza as a young kid was too enticing. It wasn't good. 
The best pizza I've ever had was a stone's throw from my old flat in Brixton. The restaurant and takeaway is just called Pizza Brixton... no points for originality, but the pizza is world class. Their sourdough mother was brought over from Italy by their family and is supposedly over 250 years old. Really light and airy crusts with an amazing flavour. I'd say it's the best Neapolitan style pizza in London. It must have been good as 2 years later they'd opened another 2 sites in Clapham and Bow.
Tips I'd give for making pizza at home:
Be patient in figuring out your dough recipe:
There's so many different combinations of flour, hydration percentage, different yeasts and sourdough starters that there isn't a defined pizza dough recipe. Keep tweaking it until you come up with a recipe that's inherently yours. 
A lot of friends and family ask for tips when making pizza at home. If you're using a conventional oven, you're going to struggle to get the right flavour and aesthetic. 
The dough wants to be exposed to very intense high heat, with the stone being around 400 degrees and the ambient temperature being 450 - 500.  You can pick up a second hand Ooni or Gozney roccbox for a couple of hundred quid, so invest in the right tools and you'll see a vast improvement.
Find the right ingredients for your toppings: 
Try and source good quality San Marzano tomatoes, and good quality, dried mozzarella. The mozzarella from the supermarkets usually come in a bag with salt water brine to keep it fresh. The mozzarella absorbs so much of that brine liquid that it can turn your pizza into soup. I would cut it, drain it through muslin cloth and leave it in the fridge covered overnight. This will help prevent sloppy pizza. Also chuck whatever you want on it. You're cooking at home, not presenting your creation to the Italian government. If you want pineapple on it, put bloody pineapple on it. 
Thank you Cameron from Zonda for your top pizza tips!  If you want to see more please visit his Instagram page.
---
← Older Post Newer Post →