Baker of the week - Sam @south_african_baker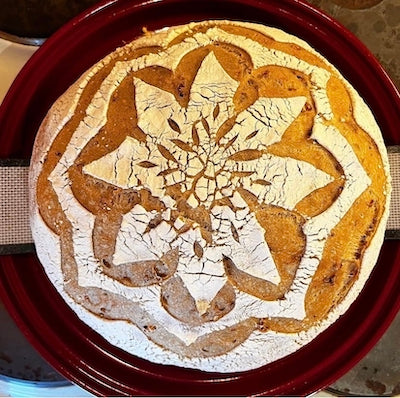 Congratulations Sam, @south_african_baker,  you are our Baker of the Week!
Thank you for answering some questions for our Cotswold Flour Baking Club:
When and where did you start baking?
I grew up with my mom baking wedding cakes part time and she always made the most incredible birthday cakes for me and my sister. We always helped her in the kitchen, and I think I started baking on my own when I was about 12 but I really got back into it during the first lockdown. I was staying with family friends in Wiltshire when the lockdown happened, and I ended up living with them for about 6 months! I still remember one of the early days of lockdown, I was moping around the house and Runel put a recipe book in front of me and said "Bake something!" so I did and I haven't really stopped since. 
What's your favourite thing to bake?
This is such a difficult question because the answer isn't a constant! If I had to pick one, I'd probably say sourdough because I love the process.
Do you have a must have baking tool? 
A silicone spatula and a good pair of oven gloves!
You get a beautiful ear on your loaves. What advice would you give to people about scoring?
I really struggled with scoring in the beginning and I watched tons of videos trying to improve. I think the best advice I could give is to have a really sharp, clean blade and be confident when you score but don't rush it. For getting an ear, it also helps to do the main score holding the blade at about ~30 degrees to the horizontal so you almost slice under the surface of the dough.
What inspires you when scoring patterns on your bread? 
Deciding what to score on a loaf is tricky, sometimes I'm inspired to do a design based on who I'm gifting the loaf to, but I'm most often inspired by amazing bakers and their beautiful scoring patterns! 
You make a lot of stuffed bread and focaccia. How do you decide what to put in them? 
Sometimes I plan it based on requests from friends but other times it's a case of opening the fridge/cupboards and seeing what would work in a loaf.
Is there anything you've never baked but would love to try?
I could give a whole list for this, but I'd love to try making baklava and also a Russian honey cake
Where can people find some tips and recipes from you?
Most of my recipes are on my Instagram profile in highlights and I try hard to reply to all my comments and messages.
The post Sam – Baker of the Week! appeared first on Matthews Cotswold Flour.
---
← Older Post Newer Post →