Friendly Loaf Wins Best Artisan Bakery at Food Awards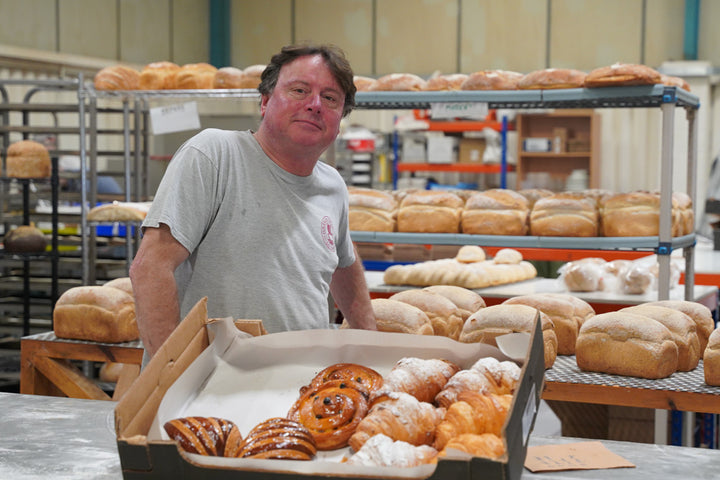 We are delighted to announce that our friends at The Friendly Loaf Bakery in Nowton, near Bury St Edmunds, have just been voted Best Artisan Bakery at The Food Awards England 2023. The bakery, which beat stiff competition from top notch bakeries from across the country, creates slow proved breads, sourdough and patisserie using high quality flours and ingredients.
Mark Proctor (photo above), owner of The Friendly Loaf comments: "We are chuffed to bits to win this award. All our staff here are ex chefs, many of them pastry chefs, so we are able to be a bit more elaborate and inventive with our products. This experience, combined with fantastic ingredients, is the key to our success. We select our suppliers very carefully and once we find great products we stick with them such as Matthews Cotswold Flour, which we have been using for 12 years!"
A spokesperson for The Food Awards England 2023 said: "We received an overwhelming response from the public, who nominated some fantastic establishments across the country. These awards are a testament to the passion and dedication of the country's food industry, and the hard work of those who provide exceptional culinary experiences to their customers. The winners should be proud of their achievement, as they represent the very best of England's food scene, and are a true reflection of the quality and diversity of the industry".
The Friendly Loaf is an artisan bakery in Nowton, Bury St Edmunds, producing fresh bread and patisserie goods for retail and wholesale customers. The bakery is open Tuesday to Saturday and they also sell their wares at Bury St Edmund's Saturday market. For more information about The Friendly Loaf visit www.thefriendlyloaf.co.uk or follow them on Facebook and Instagram.
---