Three cheese and pepperoni calzone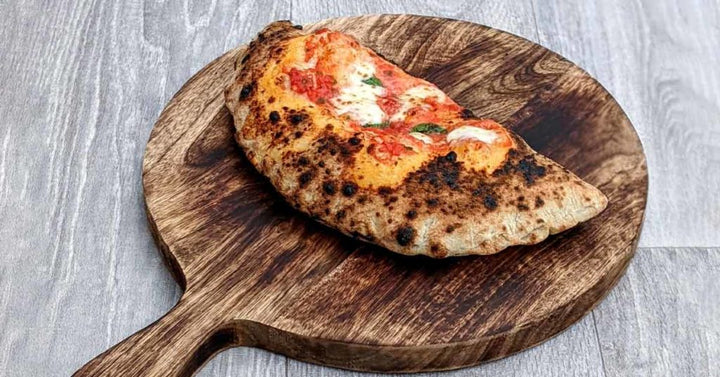 The instructions in this recipe are for making pizza dough using a "Stand/Spiral Mixer". If you haven't got a mixer and want to "hand mix" your dough you can see this technique in my "Nduja Pizza" recipe also on the Matthews Cotswold Flour website (https://www.fwpmatthews.co.uk/recipes/nduja-pizza/). The amount of yeast used in this recipe is based on an average room temperature of 17 degrees celcius. If your room temperature is considerably higher or lower, you can use a dough calculator (I recommend the "OONI APP" or "PIZZA APP") to adjust your parameters and it will give you the correct amount of yeast required. You can also use these calculators to work out the yeast you would need if you wanted to make your dough over a shorter period of time.
Dough (63% Hydration)
452g

 

Matthews Italian Tipo "00" Flour
285g Cold Water
14g Salt
0.34g Instant Dried Yeast
Sauce
1 x 400g Tin of San Marzano Tomatoes
1 x teaspoon of Salt
Handful of shredded Basil leaves.
Fillings/Toppings
Ricotta mixed with a splash of lemon juice
Grated Grana Padano
Low moisture mozzarella
Pepperoni
Tomato Sauce
Fior Di Latte
Fresh Basil soaked in salt water (this helps prevents the basil from burning)
Instructions
o Weigh out the flour, water, salt and yeast then add the flour and yeast to your mixing bowl.
 
o Turn on your mixer to incorporate the flour and yeast together and begin to gradually add 90% of the water until it has all come together and formed a rough looking ball. This should take 2-3 minutes.
 
o Cover with a tea towel and let the dough rest for 20 minutes. This will help the flour to absorb the water. o After 20 minutes, add the salt to the rested dough and turn the mixer back on. Gradually add the remaining 10% of water and mix for approximately 10 minutes until the dough is smooth. If you have a thermometer it's a good idea to check the temperature of the dough at this stage. The dough should be 21-23 degrees celcius.
 
o Turn the dough out onto the worktop and form into a ball. o Cover the dough and let it rest for a further 10 minutes. o After 10 minutes, lift the dough off the worktop and fold it over a few times before shaping back into a ball. This will increase the tension in the dough giving you a stronger structure and make the dough much smoother. When the ball is formed, transfer to an airtight container and let the dough ferment at room temperature for 18 hours.
 
o After 18 hours the dough should have risen considerably. Remove from the container and divide into three equal sized portions (240g is a good size for a calzone). o Using your hands, form the dough portions into tight balls. If you find the dough to be a bit sticky rub a little bit of olive oil into your hands.
  
o Transfer the dough balls into lightly oiled individual containers for six hours at room temperature. Adding the oil will help when you come to remove the dough balls from the containers and maintain its round shape.
o Meanwhile, in a bowl empty one 400g tin of San Marzano tomatoes and add a teaspoon of salt along with some shredded fresh basil leaves. Using an immersion blender, blend the tomatoes using very short pulses. You will only need 4 or 5 pulses depending on the texture you prefer. Avoid blending too much as this will disturb the seeds giving a very bitter taste to the sauce. If you haven't got a blender you can use your hands for this step. o After six hours, fire up your pizza oven aiming for a stone temperature of 350-400 degrees C. A calzone requires a temperature which is a bit lower than you would need for a Neapolitan pizza as it requires a longer bake to ensure the pizza is cooked all of the way through. o Tip out a dough ball onto a floured worktop (I like to use fine semolina flour) and cover with some extra flour. From the centre, carefully push out all the way to the edge making sure you do not leave a crust like you would when stretching out for a Neapolitan pizza (you can use a rolling pin for this if you prefer).
o When the dough is flat and evenly shaped begin to stretch by holding the dough down with your right hand and stretching with the left. Rotate the dough slightly and continue with this method until your dough is approximately 10 inches in diameter. This method of stretching is called the "stretch and slap" technique.
o Begin adding the fillings by spreading a thin layer of ricotta onto half of the base leaving a 1-inch gap followed by grated grana Padano, low moisture mozzarella, pepperoni, tomato sauce, fior di latte mozzarella and a few basil leaves.
  
o Lift the dough from the back and pull it forward over the fillings. Once lined up seal all around the edges by pressing down with your fingertips. You can also crimp the edges using two fingers from one hand and your thumb from the other.
  
o Tear a small hole in the top of the dough (this will allow the steam to escape during the bake so that it doesn't inflate and burn) and add some tomato sauce, fior di latte mozzarella and basil leaves. These toppings can be left off if you prefer to have the calzone plain.
  
o Transfer the calzone onto a floured pizza peel and reshape if required. Give the peel a shuffle/shake to ensure the dough isn't sticking then launch confidently into the middle of the pizza oven.
 
o Keep your eyes on the calzone at all times whilst its in the oven to prevent burning. It should take approximately three minutes to cook. During these three minutes turn the calzone a few times to ensure of a nice even bake.
  
o Remove the calzone from the oven and transfer to a serving board.
---
← Older Post Newer Post →