7 Must-try christmas baking recipes for this holiday season!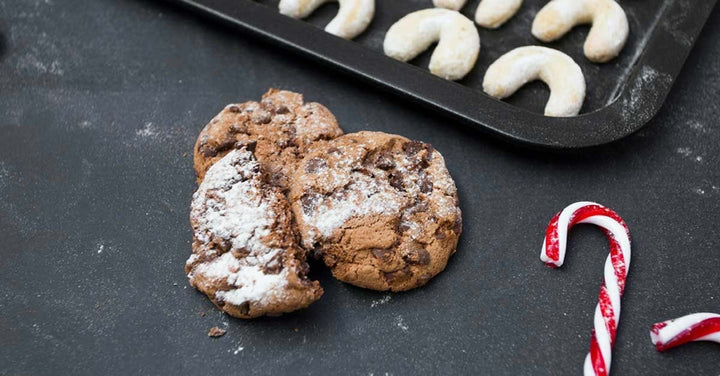 Our favourite season of the year is finally here! It's the perfect time to eat all the treats you want without feeling guilty! It's also a fantastic time to spend quality time with your family or loved ones. A brilliant way to celebrate the holiday season is by baking together. Here are six baking recipes you can use to bake with your family!
1.Ginger bread
Ingredients
100g of butter, softened

100g of packed brown sugar

100g of molasses

1 large egg

5g of pure vanilla extract

415g 

Cotswold Organic Plain Flour

15g ground ginger

15g of baking soda

15g of ground cinnamon

5g of ground cloves

5g of  ground nutmeg

5g of salt

Orange zest

Sugar cookie icing, for decorating

Sprinkles, for decorating
Instructions
In a large bowl using a hand mixer, beat butter, brown sugar, and molasses until fluffy, about 2 minutes. Add egg and vanilla and beat until combined.

In a medium bowl, whisk flour, spices, baking soda, and salt until combined. While mixing slowly, gradually add dry ingredients to wet ingredients, as well as fresh ginger and orange zest, until dough comes together.

Divide dough in half and create two discs. Wrap each dough in cling film and chill until it's firm for about 2 to 3 hours.

Preheat the oven to 180°C and line two large baking sheets with parchment paper.

Place one disc of dough on a lightly floured surface and roll until ¼ inches thick.

Bake the dough until it's slightly puffed and set for roughly 9 to 10 minutes, depending on the size of your cookie cutters. Let cool on baking sheets for 5 minutes before transferring to a cooling rack to cool completely. 

Repeat with the remaining disc. of dough. Decorate with icing and sprinkles as desired.
2. Chocolate mousse
Ingredients
150g dairy-free dark chocolate, plus extra for serving

2 large ripe avocados

40g of cocoa powder

40g of vanilla bean paste

65g of maple syrup

160g of coconut cream
Method
Place a heatproof bowl over a pan of simmering water, making sure the base doesn't touch the water.

Break the chocolate into the bowl and allow it to melt, then set aside to cool slightly.

Halve and destone the avocados, then scoop the flesh into a food processor, discarding the skins.

Add the remaining ingredients and pulse for a few seconds. Scrape down the sides with a spatula, then pulse again to combine.

Pour in the cooled chocolate, then pulse a final time until creamy and smooth.

Divide the mixture between six small bowls, then pop in the fridge to chill for at least 30 minutes.

Serve with an extra grating of chocolate and a fresh fruit salad.
3. Red velvet cake
Ingredients for the Cake
Cooking spray

255g of butter, softened

130g of granulated sugar

2 large eggs

4g of pure vanilla extract

320g of 

Cotswold Organic Plain Flour

30g of Dutch-processed cocoa powder

5g of baking soda

5g of salt

130g of buttermilk

15ml of distilled white vinegar

30ml of red food coloring
Ingredients for Cream Cheese Frosting
60g blocks cream cheese, softened

65g of butter, softened 

510g of powdered sugar

5g of pure vanilla extract

1g of pinch of salt
Instructions
Preheat the oven to 180°C. Line two 8″ round cake pans with parchment paper and grease with butter. In a large bowl using a hand mixer (or in the bowl of a stand mixer), beat butter and sugar until light and fluffy. Add eggs one at a time, beating well after each addition then add vanilla.

In another large bowl, whisk together flour, cocoa, baking soda, and salt. Add half the dry ingredients to wet ingredients, beating until just combined. Add buttermilk, vinegar, and red food coloring, beating to combine. Add remaining dry ingredients.

Divide batter between prepared cake pans and bake until a toothpick inserted into the middle comes out clean, 25 to 30 minutes. Let it cool for 15 minutes, then invert onto a cooling rack to cool completely.

Meanwhile, make frosting: In a large bowl using a hand mixer (or in the bowl of a stand mixer), beat cream cheese and butter until smooth. Add powdered sugar and beat until light and fluffy. Add vanilla and salt and mix until combined. Add more powdered sugar, 1/4 cup at a time, if necessary, until frosting is thick and a nice spreadable consistency.

Assemble cake: Using a serrated knife, level tops of cakes, reserving the scraps for decorating. Place one layer on a cake stand or serving platter, then top with a thick layer of frosting and a second cake layer. Frost top and sides of cake. Crumble reserved cake pieces and press onto the sides of the cake.
4. French macarons
Ingredients for the macaron
Cooking spray

225g of powdered sugar

100g of 

Cotswold Organic Plain Flour

3 large egg whites, at room temperature

1g of bicarbonate soda

Salt

40g superfine sugar

0.4ml of pink food colouring
For the buttercream
170g of unsalted butter, room temperature

255g of powdered sugar

4g of pure vanilla extract
Instructions
Preheat the oven to 150°C. Lightly grease two baking sheets with cooking spray and line with parchment.

Make macarons by setting a fine-mesh sieve over a large bowl and sifting 225g of powdered sugar with 

Cotswold Organic Plain Flour

.

Use a spatula to help push larger pieces through. Keep pressing until less than 43g of solids remain.

In a mixer, beat egg whites, cream of tartar, and a pinch of salt until frothy. Increase speed to medium-high and slowly add superfine sugar. Continue to beat on medium-high until egg whites are stiff and glossy, about 2 to 3 minutes.

Beat in food coloring until combined, about 30 seconds more. Fold dry ingredients into beaten egg whites with a spatula until it flows like thick lava, about 2 minutes. 

Fit a pastry bag with a 1/4-inch round tip and transfer batter into bag. Dab some remaining batter in a bowl onto the corners of two baking sheets and line sheets with parchment. Pipe batter into 1-inch circles, spacing each circle about 1 inch apart. Tap the baking sheet against the counter a few times to release any air bubbles. Let piped batter to sit out for 45 minutes before baking.

Bake one sheet at a time. 

Let it cool 10 to 15 minutes before gently peeling parchment away to transfer to a rack to cool completely.

Using a mixer, beat butter with remaining 250g of powdered sugar and vanilla until fluffy and smooth. Pipe or spread filling on flat sides of half of cookies; top with remaining half.

Wrap in plastic and refrigerate until ready to serve.
5. Rye bread scones
Ingredients
Olive oil

500g of natural yoghurt

250g of stoneground 

rye flour

250g of 

self-raising flour

, plus extra for dusting

4g bicarbonate soda

4g of runny honey

2 large free-range eggs

3 tablespoons organic jumbo oats
Instructions
Preheat the oven to 190°C. Grease a couple of large baking trays with oil.

Tip the yoghurt into a large mixing bowl with the flours, bicarbonate of soda, honey, 1 egg and a large pinch of sea salt.

Stir with a fork until everything just comes together, then get in there with your hands and shape the dough into a ball.

Dust a clean surface with flour and flatten the dough into a large disc, roughly 1 inch thick.

Stamp out 24 rounds with a 5cm crinkle cutter, dipping the cutter in flour if the dough starts to stick, placing them on the oiled trays as you go.

Beat the remaining egg and use it to egg wash the scones, then sprinkle over the oats. Bake in the centre of the oven for 20 to 25 minutes, or until puffed up and golden.
6. Chocolate rye cookies
Ingredients
100g of 70% dark chocolate

100g of unsalted butter

100g of 

rye bread

2 large free-range eggs

50g of golden caster sugar
Instructions
Preheat the oven to 200ºC.

Line two trays with greaseproof paper and rub with olive oil.

Melt the chocolate in a heatproof bowl over a pan of gently simmering water, then remove and stir in the butter so it melts.

Tear the bread into a food processor and blitz into fine crumbs, then add the eggs and sugar, and blitz again well. While the processor is still running, pour in the chocolate mixture and let it blitz until combined.

Spoon the cookie mix into a large sandwich bag, snip off the corner and pipe 3 to 4cm blobs to make 24 cookies on the lined trays.

Bake for roughly 8 to 10 minutes, or until spread and set.

Sprinkle with sea salt, leave to cool a little, and tuck in.
7. Christmas tree camembert
Ingredients
800g 

strong bread flour

, plus extra for dusting

7g sachet of dried yeast

3 x 250 g round Camembert cheeses

½ a bunch of fresh rosemary

3 cloves of garlic
Instructions
Put the flour, yeast and 4g of sea salt into the bowl of a food processor. Gradually pour in 500ml of tepid water and pulse for a few minutes until you have a ball of dough. Leave the lid on and prove in a warm place for 1 hour 30 minutes, or until doubled in size.

Line a large baking tray with greaseproof paper and dust with flour. Lightly draw the outline of a Christmas tree in the flour with your finger. Remove the box base from one Camembert and place it in the centre of the tray.

Divide the dough into three pieces, then each of those into 12, giving you 36 in total. One-by-one roll each piece into a ball and place on the tray, building out from the Camembert box to create your tree shape. Cover with a damp tea towel and leave to prove for another hour.

Preheat the oven to 180°C. Cut the rind off the top of each Camembert leaving a 1cm rim (reserving the boxes for baking). Pick the tips off three rosemary sprigs and poke into the soft cheeses, then peel and finely slice the garlic, drizzle with olive oil and poke those in too. Sprinkle each cheese with a pinch of sea salt and black pepper, then pop one in its box in the centre of the tree, and another on a separate tray. Reserve the third cheese for later.

Strip the remaining rosemary leaves and dot between the dough balls. Sprinkle it with a good pinch of salt from a height, and drizzle with olive oil. Place the bread tree in the oven with the second cheese on the shelf below and bake for 30 to 35 minutes, or until the Camemberts are gooey and the bread is risen and golden. As soon as you serve the first two cheeses, bake the third one in its box for about 20 minutes, then swap with the eaten ones. Delicious!
---
← Older Post Newer Post →