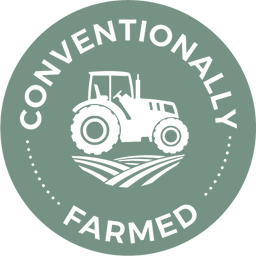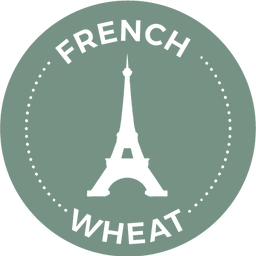 Ingredients
Choux rings
50 g unsalted butter, diced
150 ml water
70 g Matthews Cotswold French Strong Patissiere flour
2 eggs
Pinch of salt
Crème Pâtissière
1 large egg
80g caster sugar
450 ml whole milk
30 g cornflour
30 g Matthews Cotswold Organic Plain Flour
Rind of 1 lemon
Juice of 1/2 lemon

To finish
2 strawberries, sliced
Icing sugar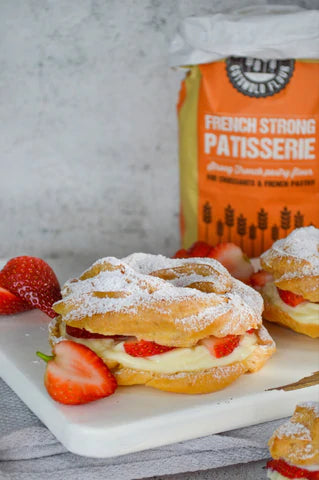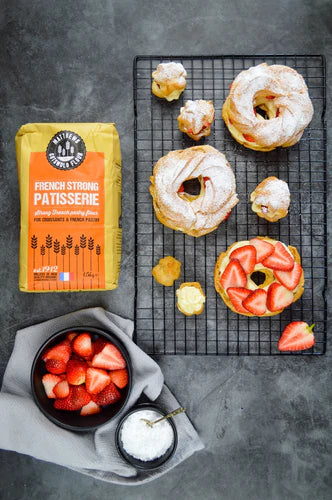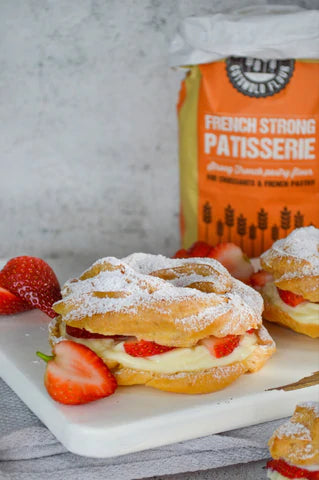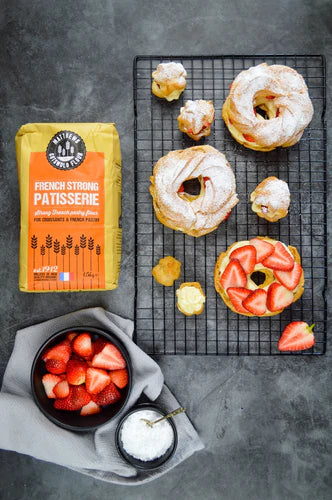 METHOD
Pour the water into a medium saucepan, add the butter and salt and heat until the butter has melted.
Bring to the boil, then remove from the heat and stir in the flour. Put the pan back on the heat and cook briefly, stirring the mixture until it makes a smooth ball, using a wooden spoon. Leave to cool down for at least 15 mins. Add the eggs, 1 at the time, and mix together with a wooden
Spoon.

Transfer the mixture into a large piping bag fitted with a 2 cm closed star noozle. Pipe four 10cm rings on a tray lined with greaseproof baking paper, leaving some space between them. Bake in a preheated oven, 200°C/180°C fan/gas 6, for about 30 mins until well risen and golden. Cover with some baking paper if starting to over-brown.

Turn the oven down to 150°C/ 130°C fan/gas 2 and cook for another 10 mins, leaving the oven door slightly opened. Remove from the oven and cool down.

Make the crème pâtissière:

In a saucepan, heat the milk with the lemon rind, then leave to stand for 20 mins. In another saucepan, beat the egg, flours and sugar. Gradually whisk the milk into the eggy mixture. Put on the heat and gently cook for about 5 mins, stirring constantly, or until thick. Add the lemon juice and mix. Transfer to a bowl, cover with cling film and leave to cool.

Cut open each ring and fill with the crème pâtissière and sliced strawberries. Dust with icing sugar just before serving.

Enjoy!

Thank you to Gabriella Morelli - @bebbasrecipes_and_ph for this recipe! If you'd like to see more, please visit her instagram.
---
← Older Post Newer Post →