Apple Maple Cinnamon Buns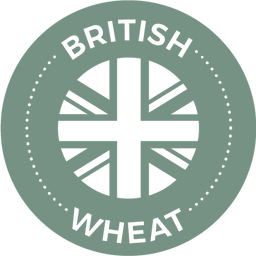 Ingredients
500g Cotswold Strong White Flour
320ml milk
50g butter, cold
7g sachet fast-action dried yeast
2tbsp light brown soft sugar

For the fillings:
3 eating apples, peeled, cored and cut into 1cm cubes
15g butter
2tbsp maple syrup
100g butter, softened
100g light brown soft sugar
2tsp vanilla extract
1tbsp cinnamon

For The Icing:
180g soft cheese
120g icing sugar
1tbsp maple syrup
Large pinch of cinnamon
3tbsp caramel sauce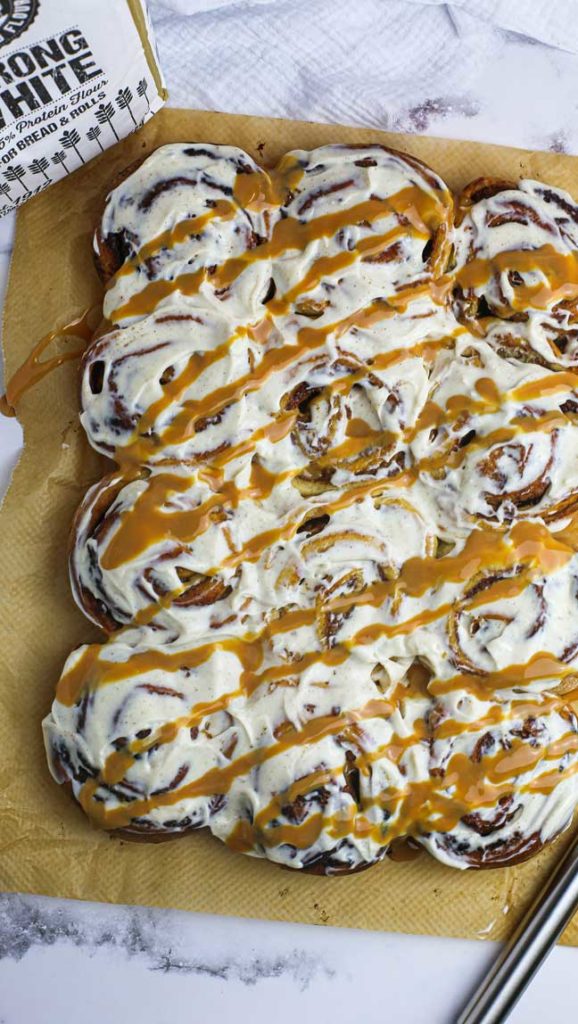 Apple & maple cinnamon buns
Dear autumn, we love you and all the cosy bakes that come with the season. Our Strong White Flour is the best for making these soft, sticky buns that are packed with autumnal flavours.
Method
Start by making the dough. Gently warm the milk in saucepan on medium heat. Once steaming, add the cold butter. Remove from heat and stir well until the mixture is warm.
In a large mixing bowl, add the flour, yeast, sugar and a pinch of salt. Start mixing with a paddle attachment of a stand mixer or with an electric whisk.
Slowly pour in the milk mixture while mixing, until a rough, sticky dough forms. Next, add a dough hook to the stand mixer & knead for 5 mins. If kneading by hand, transfer dough to a lightly floured surface and knead for 10 mins.
Once the dough is soft and stretchy, lightly grease a large mixing bowl with oil then pop the dough in. Cover with a tea towel and prove for at room temperature for 2 hours, until it's doubled in size.
Meanwhile, make your apple filling. In a saucepan on low-medium heat, cook the apples, 15g of butter and maple syrup with 1tbsp water for 8 minutes. Once soft, sticky and most of the apple is mushy, remove from the heat and set aside.

 

Make the cinnamon butter next. Mix the butter, light brown sugar, vanilla extract and cinnamon until well combined. Refrigerate until needed.
Once proving is done, punch the dough then transfer to a lightly floured surface. Roll the dough out into a 50cm x 40cm rectangle then brush off any excess flour.
Add on the cinnamon butter and spread evenly across the dough, going all the way to the edges. Layer the apple and maple compote on top and spread evenly across.
Starting from one of the longer sides, tightly roll the dough into a sausage shape. Cut the ends off and discard. Then cut the roll into 12 equal pieces.

 

Line a large baking tray with parchment paper and arrange the rolls, cut side up, in 4 rows of 3. Lightly cover and leave to rise for 1 hour, until the rolls touch at the sides.
Preheat the oven to 200C. Once the rolls are ready, bake for 35 minutes until golden. Check the bake halfway through and if the edges are burning, cover with foil and continue baking until cooked through.
Meanwhile, make your icing. Combine the soft cheese, icing sugar, maple syrup and cinnamon until fully incorporated.
Take the buns out the oven to cool. When they are just warm, spread the icing across the buns then drizzle the caramel sauce on top. Serve warm and dig in!

 
---
← Older Post Newer Post →