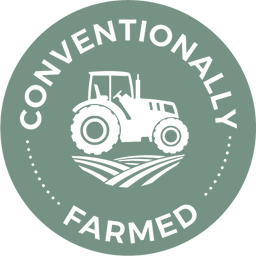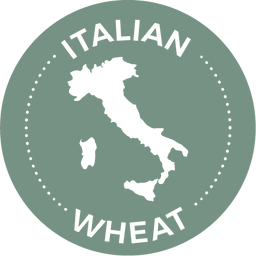 Makes: portion for two
Total prep & cooking time: 1hr 30 mins
Ingredients
Pasta dough
200g Italian Tipo '00' Cotswold flour
Extra flour for dusting
1/2 salt
2 eggs
1 egg yolk

Ravioli filling
150g fresh spinach washed and drained
150g ricotta
1 tsp salt
Lemon
1tsp pepper

Garlic sage butter
10g Sage
2 garlic nibs
50g Butter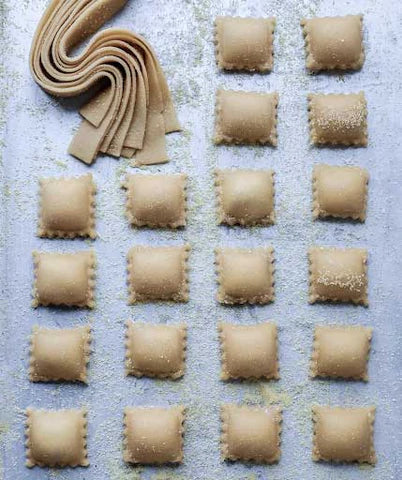 Spinach ricotta garlic sage butter ravioli recipe
Method
Put the 

flour

 into a bowl. Add the 2 eggs, egg yolk, and a large pinch of salt to the flour. Mix with your hands until combined. If your dough is still little dry add a few drops of water, if the dough is a little sticky add a little flour.

Lightly flour a clean surface and knead the dough for approx 4- 6 minutes, the dough should be smooth and stretchy and spring back when you press your finger against it. Divide dough into two pieces, wrap in cling film, and place dough in the refrigerator for at least 45 minutes.

Meanwhile, put the spinach into a large dry frying pan and place it over high heat. Cook the spinach for 3–5 minutes until it has completely wilted. Drain in a sieve, pressing out as much liquid as possible, then wrap in a clean tea towel and press out any remaining liquid, so the spinach is as dry as possible. Finely chop the spinach and transfer to a bowl, together with the ricotta, Parmesan, and lemon zest. Season to taste with salt & black pepper, mix well, and set aside.

Take one portion of dough from the fridge, remove the cling film and lightly dust the dough with flour. Flatten with a rolling pin to the width of your pasta machine, if rolling by hand roll into a rectangle with a 2cm width.
Roll the pasta through the largest setting moving down to the thinnest setting until you get the desired width. Cover with a damp tea towel and then do the same with the second dough ball. 

Place a teaspoon of the ricotta mixture at even intervals along the middle of one of the pasta sheets. Place the other sheet on top.

Using a pastry brush and water, dampen the pasta around the ricotta filling. Take the other half sheet of pasta and carefully lay it over the ricotta, gently pressing down around the mounds of filling and pushing out any air pockets. Using a sharp knife, pasta wheel or pasta stamp, trim the pasta into evenly sized squares of ravioli, then lay them out on a lightly floured tray, dust with a little flour, and cover with cling film.

 Place the ravioli in the fridge while you prepare your sage butter glaze.

 Melt butter over medium heat, add chopped garlic  and sage, cook for just a few minutes,set aside in the pan. 

Bring a large pan of salted water to a boil. Cook the ravioli in the boiling water for about 3 minutes. Remove with a slotted spoon.

Add the cooked pasta to the garlic sage butter pan, then serve immediately with a little more Parmesan and black pepper.
Thank you Verity – For the Flavour for this delicious recipe. If you'd like to see more, please visit her on Instagram.
---
← Older Post Newer Post →