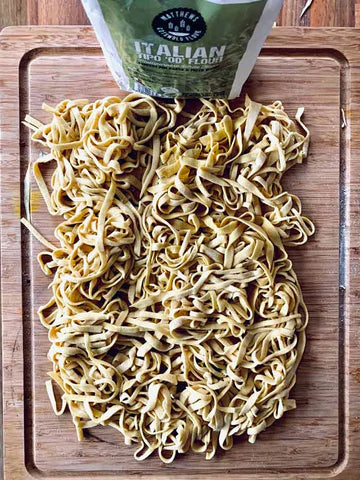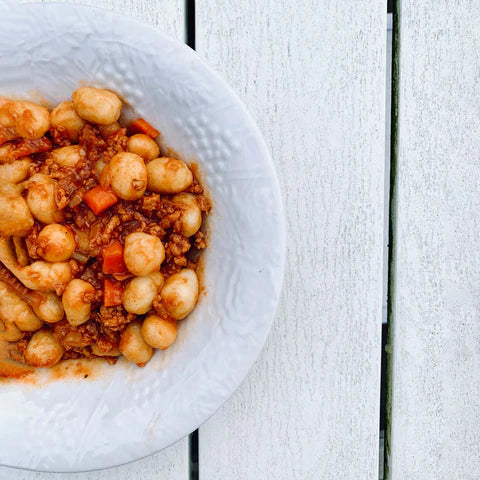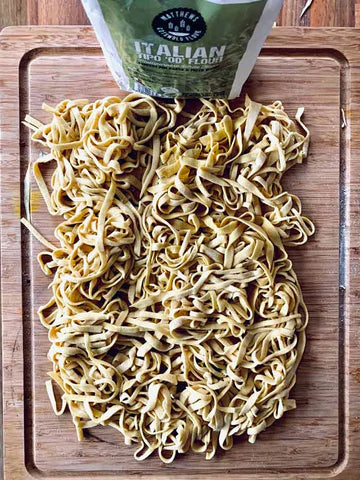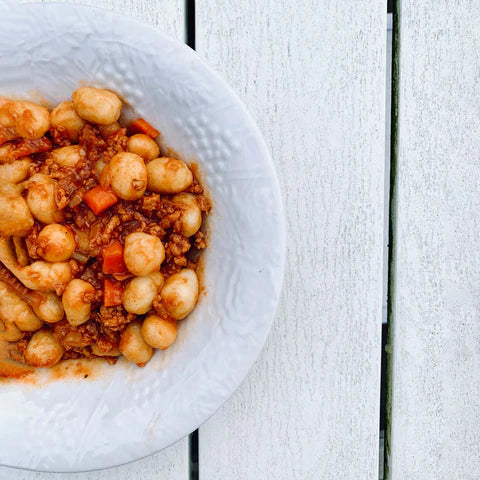 We're going to be making equipment free pasta so you won't need anything that you wouldn't already have in your kitchen. Below you can find a complete list of what you'll need including our two ingredients.
Matthews Cotswold

 

Tipo 00 Flour
Lukewarm tap water
A mixing bowl
Fork
Knife
Chopping board/work surface
Tupperware or Clingfilm.
Tea towel (maybe multiple if you're making a big batch!)
In the south of Italy most pasta shapes are made with an egg free dough as historically eggs were expensive. Most pasta shapes can be made with a southern dough which is simply made with flour and water!
Before kneading you should decide how much pasta you want to make. I normally use 100g of flour per person.
In a mixing bowl add the amount of flour you have decided to use. Form a well and add half of the flours weight in water (if you are using 100g flour you will need 50ml water).
Mix the water in with your fork, try to pick up as much water as possible. Your flour will begin to form small pieces of dough. Press your fist into the bowl and try to form a ball, collecting as much flour as possible.
Once you have a solid ball place it on your work surface and begin kneading the dough by placing your palm on it, pushing and stretching it away from you. Then fold the dough in half and continue to knead. Rotate the dough as you knead.
After about 8-10 minutes you will feel the dough start to become smooth and stretchy. Put it in tupperware or cover in cling film and leave to rest for 30 minutes.
PEZZETELLI
A simple Puglian shape with an unknown origin that is, for the most part, completely unknown in Italy.
Pezzetelli have only recently been rediscovered by pasta historians and are slowly being brought back into the mainstream through bloggers enamoured by their dastardly simplicity.
Simply take a small piece of dough as wide as your index and middle finger, place your fingers on top and circle as your press down to create this domino-style shape.
GNOCCHI
750g Potatoes
175g Tipo 00 flour
Either boil or steam the potatoes until a knife can slip through them easily. If you boil them you will have to contend with the excess moisture, by steaming them you will significantly cut down your prep time.
Remove the skins, being careful not to burn your hands and mash the potatoes.
Add the flour and work the mash quickly to try and create a soft dough.
Cut off a section, roll it out with your hands and cut out your gnocchi (about 1,5 cm). If you like you can leave them like this, shape them into a ball or roll them over the back of a fork to give them ridges.
Place the Gnocchi on a tea towel until you are ready to boil them. 
Gnocchi are cooked when they float to the surface, so remove them with a slotted spoon and add them to your sauce. 
Sauces
Pasta with Broccoli (

Serves 2)
1 Head of Broccoli
1 TBS Olive Oil
1 Dried Chilli
2 Cloves of Garlic
1 tsp Miso Paste
Instructions
Prepare a pan of salted boiling water.
Add your broccoli to the boiling water until soft – usually about 12 minutes.
While, the broccoli is cooking, heat the oil in a pan, chop the chilli and garlic together and add them to the oil.
Once the garlic is golden and fragrant remove the garlic and chilli from the oil (keeping the oil in the pan).
Add the miso paste to your oil and mix it in.
Remove the broccoli with a slotted spoon and cook your pasta in the broccoli water.
Add the broccoli to your oil and break it down with a spoon until it has formed a uniform sauce.
If it's too thick add some of the cooking water from the pasta once it's ready.
Puttanesca (

Serves 2)
10g Capers (Chopped)
100g Gaeta or Black unseeded Olives
240g Chopped Tomatoes
2 Cloves of Garlic (Skinned, topped and tailed but kept whole)
2 Dried Chilli Peppers (Chopped)
Handful of Chopped Parsley
1tsp Miso Paste (optional)
Instructions
Heat some oil in a pan and add the garlic (whole) and chopped chilli, when your garlic starts to brown add your capers.
Fry for one minute then add your miso and break it down into the oil.
Add your chopped tomatoes and cook for 10-15 minutes. Your sauce should darken and reduce.
Meanwhile, break your olives slightly with the back of a fork.
Once your sauce is ready, remove the garlic cloves, add the olives and cook for a further 5 minutes.
Add the sauce to your cooked pasta and cover with the chopped parsley.
Authentic Italian Vegan Ragù (Serves 4)
450g Plant based mince or Lentils
4 big juicy sauce-based Tomatoes (or 500ml Passata)
2 small white Onions
2 sticks Celery
2-3 Bay leaves
2 Carrots
1 glass White Wine
400ml of Veg Stock
1 tsp Tomato Concentrate
Instructions
Finely dice the onions and celery but roughly chop the carrots and tomatoes.
Fry the onions, celery and carrots in olive oil until they soften, add the mince/lentils.
Add the white wine and stir until evaporated.
Cook for 5 minutes or so until the mince has browned.
Add the tomatoes and press to break down once softened.
Stir in the tomato concentrate and add the veg stock.
Add the Bay Leaves.
Bring to a simmer, cover and cook for at least 90 minutes. Remove the bay leaves when cooked.
Serve hot on the pasta of your choice, if there are any leftovers you can build a small lasagna the next day
Thank you so much to Scott aka The Pasta Prince for the delicious homemade pasta and sauce recipes! If you'd like to see more please visit him on Instagram or visit his website for so many more amazing recipes and top tips!
---
← Older Post Newer Post →